What's Hot: Top Board Games of December 2022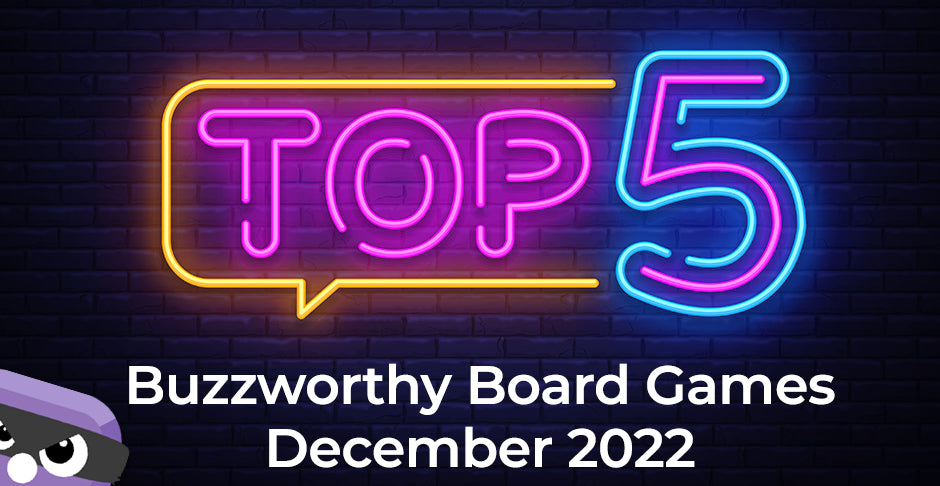 As December rolls in and the holiday season approaches one question always comes up... Who wants what game for Christmas? Well, the timing is perfect for a list of the hottest board games of December as you plan out your gifts for others, or for yourself if you're feeling generous!
5. Blood on the Clocktower
| | |
| --- | --- |
| Number of Players | 5-20 |
| Playtime | 30-120 Min |
| Suggested Ages | 15+ |
| Designer(s) | Steven Medway |
| Publisher | The Pandemonium Institute |
If you think you've had your fill of social deduction and hidden role party games then think again. Blood on the Clocktower finally hits retail shelves this month, bringing with it a wealth of content in a MASSIVE box. Designed for larger groups (plays from 5-20 people), this game challenges players to deduce who the Demon is through both bluffing and logic. An extra twist with this one is that the dead players still play, adding an additional level of complexity to your deductive challenge. Full points for this as it avoids having anyone that's killed off early stuck watching everyone else have all the fun.
In the game, players are divided into two sides, Good and Evil. The proceedings are overseen by a Storyteller player responsible for conducting the action and making crucial decisions. Players on the Good side are trying to figure out who the demons are and execute them before the number of demons outnumbers the poor townfolk.
Buy Blood on the Clocktower online now!
4. MicroMacro: Crime City - All In
| | |
| --- | --- |
| Number of Players | 1-4 |
| Playtime | 15-45 Min |
| Suggested Ages | 10+ |
| Designer(s) | Johannes Sich |
| Publisher | Pegasus Spiele |
The third entry in the series that started with the Spiel des Jahres award-winning MicroMacro: Crime City, MicroMacro: Cime City - All In arrives this month with sixteen all new tricky cases for clever detectives with a keen eye to solve.
Adopting the tried and true mantra of 'if it ain't broke don't fix it', MicroMacro: Crime City - All In employs the same mechanisms as previous editions of the game. Players work together to inspect a huge game board/map, trying to identify the motives, find the evidence, then convict the perpetrators. If you liked either of the previous games in the series then this one is a must. If you haven't tried any of them yet, then this is a great place to start, you don't need to play any of the previous versions to enjoy this one.
Buy MicroMacro: Crime City - All In online now! 
3. Akropolis
| | |
| --- | --- |
| Number of Players | 2-4 |
| Playtime | 20-30 Min |
| Suggested Ages | 8+ |
| Designer(s) | Jules Messaud |
| Publisher | Gigamic |
If tile laying is your thing then look no further than the fantastic tile laying abstract strategy game Akropolis. This game is receiving a lot of buzz after its release, with players praising its simple, yet deep gameplay and unique way of laying tiles on top of one another to create an almost three dimensional city.
In the game, players are trying to be crowned the most talented architect. To achieve this they must build housing, markets, temples, gardens, and barracks as they construct a burgeoning city. By strategically managing their stone resources, players then select tiles from the construction site, adding them to their city to unlock benefits, then building on higher levels to increase the value of their districts.
Buy Akropolis tile-laying game online now!
2. The Wolves
| | |
| --- | --- |
| Number of Players | 2-5 |
| Playtime | 75 Min |
| Suggested Ages | 14+ |
| Designer(s) | Ashwin Kamath, Clarence Simpson |
| Publisher | Pandasaurus Games |
Another hotly anticipated release this month, The Wolves is a unique pack-building strategy game for two to five players. Players work to build the largest and most dominant pack of wolves by claiming territory, recruiting new lone wolves to the pack, and hunting prey. Sound easy? Players need to be careful not to expand too fast, as your rivals may lure your wolves away to their own packs.
The game turns are driven by an action-selection mechanism, with the actions available to players represented on double-sided tiles. When an action is selected, that tile is flipped to the opposite side, allowing players to plan what actions may be available to them (or their opponents) next. This unique mechanism makes this one stand out from the pack (lame pun intended).
Buy The Wolves strategy board game online now!
1. Wingspan Asia
| | |
| --- | --- |
| Number of Players | 1-2 |
| Playtime | 40-70 Min |
| Suggested Ages | 10+ |
| Designer(s) | Elizabeth Hargrave |
| Publisher | Stonemaier Games |
The juggernaut that is Wingspan continues with the latest release from Stonemaier Games, Wingspan Asia. This standalone 'expansion' can be played on its own as a one or two player game, or combined with the original base game and all expansions released to date.
A new Flock mode is also introduced with this game, which includes components so that the original base game can be expanded to accommodate six or seven players. Whether you're playing the new Duet mode, rolling solo, going into a big Flock mode, or just adding more birds to your next game, this edition of Wingspan is a can't miss.